CUT TO: Jimmie, Lefty, Merle, and me...
| | |
| --- | --- |
| Wish Merle was hear to have heard this news... | Pic taken by Chris Felver |
The Singing Brakeman's Saga runs through 39 years of my life, and 12 of those were

down the track with Merle Haggard. Talking to Hag about Jimmie Rodgers we began

to lay the Lefty Frizzell main line track from Jimmie to Lefty to Merle, and I saw a

music trilogy unfold on paper and film, then came Bob Wills stories, Willie and on the

road with Bob Dylan. Both Bob and Merle did tribute albums to Jimmie also Willie,

and Lefty, Ramblin' Jack, Gene Autry, Earnest Tubb, Elton John with Leon Russell...

Jimmie Rodgers and his life and how that influenced Lefty, who then passed the ole

JR lantern to Merle Haggard, joining the main track that I was laying since 1978

called Kickin' Up Dust where I was cutting a trail of music history that I want to tell

now with this book, and maybe take my-story to film. From Jimmie to the singing

cowboys like Gene Autry, and ole Buck Page of the Riders of the Purple Sage... from

Medicine Shows to Minstrel acts like Emmett Miller and the days of tent shows and

on to vaudeville.

With side tracks down country music history with Earnest Tubb, Hank Snow, Lefty

Frizzell and Hank Williams, to Bob Willis and back to Haggard and Dylan, Waylon,

Johnny Cash, Kristofferson and Willie, always going back to stories with the the

friend, partner, saddle pal and mentor on the road in the bus with MERLE HAGGARD.
The thread of my story hangin' and rollin' with Haggard was music history.

From Emmett Miller to Jimmie Rodgers to Earnest Tubb to Bob Willis to

Lefty Frizzell to Ray Price, Les Paul, Johnny Cash, Waylon, Kristofferson,

and back to his story. Merle on the drop of a dime, would rather talk

about the old boys he knew and were influenced by than about than

himself, the news or the weather. Yet the circle of the story was Jimmie,

Bob, Lefty, to him and he loved to hear any story that I knew about the past.

He loved that I took notes, pictures and that at the drop of a hat get some-

thing down on film or picture the show it to him later. If he was not on tour

he would call me to come up to his ranch and let's do some shooting. Tell

me usually get a room in Redding or the 3-wheeler camper was there and

could bunk down on the ranch. These were such special times for me and

in my other book I am able to spend much more time telling about these

times we had on his ranch...
Fate and Destiny had given me this Saga to create by connecting the dots and/or tracks along the evolution of music in America.

Then I started noticing that this Jimmie Rodgers dot kept showing up on the track. So I started to dig into the Singing Brakeman,

and found a relative unknown story by the masses at large, especially the guys in Hollywood. For in Hollywood if a big shot or if

two people in the room do not know what you are talking about...you are the stupid one. For the fast moving young demographic

that most of Hollywood was trying to target it had to be off the hook, sex, girls and guns and violence, preferably in the same movie.

Meanwhile I was discovering this incredible man who, was so influential that he showed up when going across names like Gene

Autry, Earnest Tubb, Bob Wills, Hank Snow, Lefty Frizzell, Les Paul, Willie Nelson and Merle Haggard, then from Kenneth

Threadgill to Janis Joplin, Dylan to Kacey Musgraves. and and on and own down the track that Jimmie Rodgers had laid.
Slim Bryant, Norm Stephens, Merle Haggard are playing the Bryant

penned "Mother Queen of my Heart", that was a hit for Jimmie Rodgers

and Merle Haggard, and became one of Merle's favorite Rodgers' songs

Merle was playing in Wheeling West Virginia and I flew there and

hired a camera crew to film a interview I set up with Merle and Slim.

My saddle pal Dan Sasu Weh Jones directed the historic shoot.
Thomas Hoyt Bryant was born December 7, 1908, and died May 29, 2010, known as Slim he died at 102 years old. Through my

research I had found Slim and got him on the phone. He was 96 at the time, and was sharp as a tack, funny as hell and very

humble man. Slim came across my radar in that he was the only man living who had played and/or recorded with Jimmie. Soon

as I told Merle that I had found him he said, "Get me too him..." It took Frank and I a year or so to put all the logistics together to

get these two legends together. At Slim's age we could not take a chance putting him on a jet, and Haggard does not like to fly on

commercial jets so we waited till he was touring near where Slim lived in Pennsylvania.

I would call Slim from time to time to just tell him we were working on getting them together. Both men were as excited to each

meet each other. Then one day Frank called telling me that Merle was booked for a show in the old Capitol Theater in Wheeling

West Virginia. It was only 4 hours from Slim. After the call from Frank I called Slim and told him that the meeting with him and

Haggard was coming together. I told him the show was going to be at the ole Capitol Theater in Wheeling West Virginia where

the WWVA Jamboree radio show was produced, and Slim said to me, "I played there before Radio. I thought WOW... It was in

the year BR..."Before Radio." LOL
Slim was a hog in slop in hog heaven being there as a guest with

Merle, who treated him like the legend that he was...

When Hag asked for his guitar and if Slim would sing "Mother Queen of

My Heart"... my heart stopped. As a producer, how do you plan this...
THE MAN THAT STARTED IT ALL is a true story about the life of the music legend Jimmie

Rodgers, where on his plaque at the Country Music Hall of Fame, where he was one of the

first inductees along with Hank Williams, it says "The man that started it all."

James Charles Rodgers is born September 8, 1897, it's a time when Annie Oakley and

Sitting Bull traveled with Buffalo Bill Cody's Wild West Show, and trains, nearing 80 miles

an hour began to connect the western territories with the populous eastern cities. Moving faster than the train, the technological inventions of the day such as the phonograph (talking

machines), the radio (the wireless), and the big silver screen (flickers and talkies) would not

only spur along Jimmie Rodgers' career, but would give rise to the Entertainment Industry

itself. Jimmie Rodgers was three years old when the century became nineteen hundred

Some may remember him as the "Blue Yodeler" or "The Singing Brakeman". He's AKA

"The Father of Country Music". This February 2017, he received the LIFETIME ACHIEVEMENT

GRAMMY AWARD in Hollywood, where the Grammy Trustees gave a Trustee Grammy to

Ralph Peer, the man who discovered Jimmie Rodgers. Rodgers is a member of the

Country, Rock and Roll, Grammy, Nashville Songwriter, and Blues Halls of Fame, in

addition to post-humously receiving a W.C. Handy Blues Award. It is a fact that no

other entertainer in history has garnished such accomplishments. He was also

the first entertainer honored with a commemorative postage stamp from the U.S. Postal Service and many say the first big superstar of radio and records, that took it all to the road shortly after his first record.

As a tribute to the music trail he blazed we find a long list of tribute records and songs from

the likes of Earnest Tubb, Gene Autry, Patsy Montana, Bob Wills, Hank Williams, Willie

Nelson, Lefty Frizzell, Ramblin' Jack Elliott, Merle Haggard, Bob Dylan, Elton John, Leon

Russell, and others. It is said that Merle Haggard's, Lefty's and Dylan's tribute passed on

Jimmie's music legacy to entire new generations. Merle's allegiance to Jimmie lasted from

his years as a teen when he discovered Jimmie via Lefty singing a Rodgers' song on the

radio.

Willie Nelson and Merle Haggard

release their new album

DJANGO AND JIMMIE

a tribute to Django Reindhart and Jimmie

Rodgers we covered the tour and have

interviews with these icons.

"A young singing brakeman and a jazz playing

gypsy, might not have been a Merle or a Willie

If not for a Django and Jimmie."
As the new century began there was only ten miles of pavement in the country, oil was

discovered in Texas and U.S. Steel Corp. was formed. Gibson began to make guitars
and the first movie with a plot, "The Great Train Robbery" is released. At 13 years of age
Jimmie Rodgers joined a Medicine Show. "Memphis Blues" had just become the first
blues song written down and published, and Irving Berlin's "Alexander's Rag Time Band"
was the popular tune. We will see how the years Jimmie spent in the south playing

music on the railroads, with ex-slaves and hobos effected the course of his music...

The year 1927, would become a big year in the life of Jimmie Rodgers. It'd become

the year that he would make his first recording being discovered by Ralph Peer who

had gone to Bristol Tennessee to record some of the new "race music", also being

called "hillbilly music". August 4th became a historic day in the history of music in this

country when Mr. Rodgers first recorded, two days prior The Carter Family did their first

recording. Also, that year we saw sound brought to the movies with the release of "The

Jazz Singer." Sound had come to film and Jimmie found out he had tuberculosis.

Soon Jimmie's "T For Texas" sells over a million copies—a blockbuster even by today's
standards. In 1929, he goes to Hollywood and records with Louie Armstrong in a studio

that in the 1950tys Elvis would record many of his big hits. The next year Columbia

Pictures teams up with RCA and record a 3 song "short" as one of their early ventures

into the "talkies", and what might be one of the early music videos, and you could say

the beginning of Sony.

The 1930's bring the Great Depression and Jimmie has hit a chord with the common

man, even against the odds of times he rises to heights known by no entertainer before

him, some say he became the "first superstar."

Jimmie Rodgers' final years came all to quickly. He spends them in the Texas Hill
Country—becoming an honorary Texas Ranger and touring with Will Rogers. The
cowboy life in Texas begins to influence his music, and his disease is taking him further
away from his stardom. In 1933 this young troubadour passes away at thirty-six in a

a lonely hotel room in New York recording his last music.

Buck Page and Aaron Neville after filming

interview at Radio Recorders in Hollywood

where Jimmie recorded back in 1930.

Toby Keith from interview that is in the

Jimmie Rodgers Saga
Ramblin' Jack Ellitott, Frank Mull and Ralph Peer, Jr., who's dad

discovered Jimmie Rodgers and the Carter Family in 1927.

Ramblin' Jack, by the way, did a tribute album to Jimmie Rodgers and Woody Gutherie in 1959. Loved bringing Jack into the Haggard circle. Made me proud to make the historical connect between these two great men and admirers of the ole Singing Brakeman.

I love ole Ramblin' Jack, have got to work with him, travel with him and hang with him, toke and drink with him, and produced some wonderful events with him, and we were just good friends... miss not seeing him the past couple of years.

It is the synergy with Jimmie Rodgers that ties me and Merle and me and Jack, and I brought Jack to a few shows to hang out so

he and Hag could spend time sharing stories.
It was special to get to introduce Noel Haggard

to Jack and Jack loved meeting the sons.

RAMBLIN' JACK ELLIOTT

Have some great Ramblin' Jack, Merle

Haggard and Jimmie Rodgers stories

to tell...Got ole Jack in to see and meet

Merle on a couple of occasions and

both had a great respect for each other.

Jack recorded a tribute album to Jimmie

Rodgers and Woody Guthrie in 1959,

and Merle love to talk to him about

music history, and funny how shy Jack

was around the great Merle Haggard,

the legend that he is and how high a

regard Jack shows for other great men.

Thank you whomever took this pic for me

with my cam on that special day with Jack

and the Merle Haggard gang...

somewhere in Nothern California
Ole Ramblin' Jack thought it was the cat's meow that I knew and ran with Haggard. So I started working the dance to get them together. I had been working with Jack for a couple of years on the Pioneer Troubadours Project. And, as usual floored that I was becoming saddle pals working with and hanging out with the legend Ramblin' Jack Elliott. Every month or so he would stop by the house in Paso and we drink coffee, he would stay a day or two and we talk and walk and drink and smoke. We both enjoyed

telling tales and cooking up a pot of beans and jalapeño cornbread a good Paso wine and some local weed.
| | | | |
| --- | --- | --- | --- |
| | Backstage with Willie, Ramblin' Jack and Kristofferson | Ramblin' Jack and Eric Clapton | Ramblin' Jack Elliott |
Another shot with Ralph Peer, Jr. who I brought on Merle's bus

to meet him for the first time and was a great talk, and dang did

not have film rolling this day and missed the great talk on Jimmie.

Willie and Merle on the Django and Jimmie

tour 2015, more in the eBook for sure...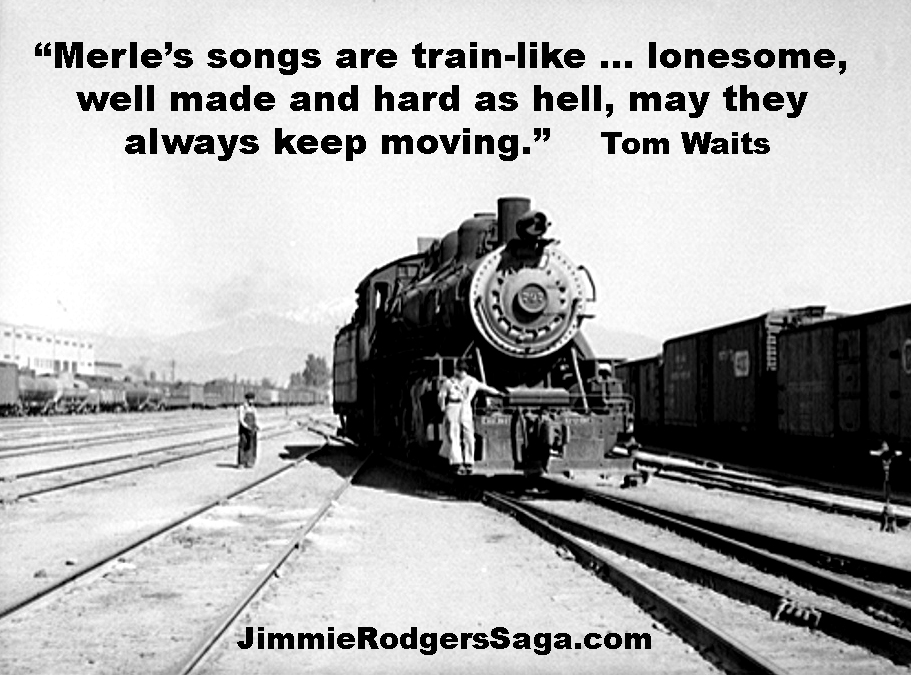 CLICK THE PIC FOR MORE
STAY TUNED
for comments