BUY YOUR LINK TO YEARS

OF BLAZED TRAILS, VIDEOS,

PICTURES, STORIES FROM

MY HALF CENTURY IN THE

ENTERTAINMENT BUSINESS

YOU'LL SEE THE BIGGEST

STARS FROM NASHVILLE TO

HOLLYWOOD AND AUSTIN

ONLY 3 BUCKS

TO ENTER MONTHS

STORIES AND PICTURES

Ashley, Lance Desiree, Buffalo and Robby

this story is for ya'll with love...

Buffalo Behind the Camera

thousands of pictures & videos

Buffalo in Front of the Camera

Pictures where he was and was not

MEANWHILE BACK

AT THE BUFFALO RANCH

By Benford Earl "Buffalo" Standley

This Digital Media Story is another cutting edge digital venture of

Benford "Buffalo" Standley

A INDEPENDENT VIRTUAL MULTI-PLATFORM MEDIA VENTURE

TRAVELS ON AN INTERNETWORK TRACK THROUGH CYBERSPACE

AUGMENTED MEMORIES OR WERE "MY DREAMS WERE DREAMING

ME" TO QUOTE WILLIE NELSON...I KNOW WE WERE HIGH.

The Saga of Writer, Producer, Dad, Granddad, and Carnie Benford "Buffalo" Standley...from his days riding bulls in High School, water skiing with then astronaut John Glen's kids, then off to college in West Tx. during the 60ties where he started a Fraternity and a country rock band, he opened a psychedelic club called The 5th Season in Alpine, Texas a town just West

of the Pecos River, and did his share of the drugs distributed to the mass of youth... chasing Pop Festivals, then back to college to study psychology and work with autistic children, while working in surgery at a large Ft. Worth, Tx hospital. With many trips to Mexico while working in the take off of the Austin progressive country music scene with the Cosmic Lost Gonzo Armadillo Outlaws... and doing a University Internship working in mental hospitals in Austin...

Dead children on the backwards then leading to his whistle blowing on the conditions that children faced in these hospitals that then had the Governor

of Texas calling up the Texas Rangers, the Senate and House Human Resources Committees to investigate what he dug up...followed by the U.S. Justice Department and FBI looking into the can of worms that he opened

on the Texas Department of Mental Health...leading to serious changes in

the state and fate of institutionalized children...after they tried to shoot the messenger.

After all this, plus Kent State and Watergate, Buffalo decided to hit the road

with some amigos to many places South of the Border, including years living with the Mayan in Guatemala during the 70tys, traveling every country in

Central America and on to Peru, Ecuador, Argentina, Bolivia and Brazil in South America...months sailing the Greek Islands on LSD, and months in Rome, Italy... then to working with Bucky Fuller and Laura Huxley in Canada, and back to his Gypsy life South of the Border...building a house in Costa

Rica and a cabana hut on his land on Roatan Island in the Caribbean sea where he helped produce a record, and producing concerts in Guatemala

on a ancient volcano lake with Gary P. the Cosmic Armadillo Gonzo Okie

Nunn.

speaking of BACK at the buffalo ranch...

Use your BACK button to retrace and back-track the story

and/or FOLLOW THE LINKS here and there deep into 13

years in cyber space and a half a century as a carnie,

producer, promoter, dreamer, writer, history buff, gypsy

gypsy, gonzo, hippie, cowboy, dad and granddad
Born a 3rd generation Okie and raised in Baha Oklahoma, some call Texas, the Indians called it "Tejas". Mother

and dad divorced when I was 3 or 4 and I lived with my Grandmother and Grandfather, and with my mother off and

on while she worked in Dallas, and started dating the man that would become my step-father, who then adopted

my sister and I...the rest of my life I just wanted to be away from him...thus began a life of a certain feeling of

aloneness in the world...Later he killed my mother...

In high school sports kept me in line, straight that is, and popular, I got a set of drums and then begin to think about

Rickey Nelson, Buddy Holly and the cool cat Elvis, at the same time a growing fan of Bob Wills, Chuck Berry and

Sam and Dave, and dating cheerleaders, while I rode bulls in rodeos and did not drink or smoke pot. Then when

I was 18, I drove off to college in my black Ford Mustang to play football at a college in West Texas...3 weeks

of that and I quit...dang I could get hurt...at the time there were no social fraternities on the campus...it was 1965,

I was ready to party like it was 1969, I had a country band that I played drums in called the Country Bunch, and

opened the first club in Alpine, Texas where Buffalo roamed and it was called The Fifth Season, we painted the

walls black, had strobe lights and had rock and country bands. They wouldn't give us a beer license, whatever...

we were only 80 miles from Old Mexico, so weed was in town before many places in the country. I inhaled. Went

to the Dean of Men and the President of the college about the idea of getting a National Fraternity on campus.

We all said "Toga Toga Toga." and here came Tau Kappa Epsilon, that is when I became a fraternity brother with

Les Paul, but more on that later when I meet Les Paul, and then introduce him to Merle Haggard on a tour with him

and Bob Dylan. More of that at the link below with me in front of one of Haggard's busses on that tour.

EACH SQUARE BELOW IS A CHAPTER...OF SORTS

CLICK THE LINKS AND YOU'LL GO FROM COW CHIPS TO COMPUTER CHIPS SOME LINKS

WILL TAKE YOU DOWN TRACKS THAT WILL END UP IN 50 YEARS AGO, SOME ON THE RED

CARPETS OF HOLLYWOOD, THE STREETS OF AUSTIN, NASHVILLE, MISSOULA, NEW YORK,

YOU WILL WALK THROUGH DOORS OF PERCEPTION THAT FEEL LIKE A CYBER COLLAGE

If you feel you are going to far down the track... use your back up key and find another track...
BUY THE CYBER BOOK HERE

Bruce Ricker mentor and Eastwood Atorney

with me in the middle and Mr. Make My

Day on my right looking from my computer.

For the first months and beginning

Chapters of this Saga it will jump

from past, to present and future...

no rhyme or reason, as sometimes

there does not seem to be in my

life on the TRAIN of fate and destiny

that I travel and roam...this is for my

kids and myself at this time in my

life to look back so that I can better

see dead-ahead, after seeing

where I have been.

Somebody told me I was

in town tonight...I sez,

"Well...I didn't come

here, and I ain't leavin'

There were those in Alpine, Tx. Missoula, Mt. and Paso Robles,

Ca. that wanted to hang me to a

tree for the shows I was bother-

ing them with, and I am proud

the battle I fought to produce

fun and historical event in

Vegas, Austin, Beverly Hills,

Malibu, Montana, Guatemala,

Mexico, Oklahoma, all over

Texas and and here and there.

DIGITAL MEDIA

FESTIVAL 2013

SILICON VALLEY

I produced in

Silicon Valley, being

the first one...how'd

that happen that I was

the first "digital"

film festival in the

Valley of Silicon?

PRODUCING 6 DIGITAL

FILM FESTS

The Paso Digital Film Festival

THE FIRST DIGITAL FILM FESTIVAL

OF ITS KIND IN

THE WORLD

2008

IT'S IN THE BOOK

In the Hills of Beverly...

Malibu and Hollywood


Thomas Steinbeck & Buffalo Benford

kicking up dust, and I could not live

this good even if I was rich...while

writing their story "How to make

movies in Hollywood on $7.00 a

day if you friends are home.

"onward through the fog..."

USE YOUR BACK BUTTON

TO BACK TRACK...
My life is a track that I have been ridin' on...somewhat to the desire of fate and destiny. If I look back at the

pictures alone, and many of them at events that I dreamed up, then I became possessed with the dream,

the "producer" if you will, but got to wear the "promoter" hat as well. And the BS hat...cause you sure got to

talk big when you have a BIG, or unbelievable, to most people, idea that you are in the process of trying to

get off the ground... An idea can take control of you. Willie Nelson sez, "My dreams are dreaming me."

My friend Ken Kragen, who created We Are The World and Hands Across America told me about

those two ideas he had and all his friends said he was crazy...Ken told me he learned about dreams..

"That they were impossible enough to be possible."
From Cow Chips to Computer Chips

I have no idea how, but I have been on the digital

cutting edge since Willie Nelson turned me on to the

Internet on his bus in 1994, after I co produced the

short wave radio broadcast of Farm Aid that year.

Takes you to the cutting edge of digital history


Producer Benford Standley in the Beverly Hills
Hotel Webcast Room at end of FAITA Webcast

One Ran East...One Ran West...

They're all running around in the cuckoo's nest

a 15 year online his-story of the state and fate of children and

youth in this U.S. of America...Stories from Benford's work with

the F.B.I. to the Texas Rangers and his story from the streets

LINK TO 40+ YEARS DOING WORK FOR OUR NATION'S YOUTH

I was a whistle blower and the Gov. of Texas called up the

Texas Rangers to investigate...in the end I won the fight.
MALIBU FILM FESTIVAL

I lived in Lilly Lawrence's incredible castle for a year

in Malibu...and from 1999 to 2003 I photographed

and posted the Malibu Film Festival and Fashion

Show online for 4 years, first of it's kind for a

film festival and led me to the digital fests in 08

Movies and the Biz in Digital

Will be a number of links to my years wearing

my paparazzi hat, with camera and Press Passes

to cover any big movie event in Hollywood...

More history on all these stories from the

red carpets of Hollywood

Okie Carnie Delux a Hillbilly Hobo

Since I was a boy, and while I was growing

up I watched my mother play her tenor

guitar or ukulele and sing. In younger days

she dreamed of being a musician...I took

that from her and most my lived lived worn

many hats in the business of entertainment.
Launched in 1998 till 2018 is

20 years go backstage to the

red carpets of Hollywood

Legends Living and those past...

More links to this through the venture following

me kickin' up dust in the biz of music. Started

with a call to do a project with Eric Clapton.

I said, "With God?" Widerman said, "Yes." I

said, "I'll do it" ... so we made some history

and recorded it in Dallas, Tx with thousands.

THE MAKING OF THE

Jimmie Rodgers Saga

\

The most awarded entertainer in history,

my passion for 30 years of my life...

coming soon.
o
I'zz born again 1967, the Summer of Love. I'm an ole Hippie and proud of it,

like my yogurt, granola, bean sprouts,

and herbal teas...and I tripped and

don't want down...outlaw, deadhead, cowboy I inhaled and followed the

Grateful Dead

This track my life floated down

is known to give FLASHBACKS

Hollywood County Line

Summer of 2005 I produced a country night

with partner Peter Kennedy and Cy Langston

joined by Mark Sellers & the Bunkhouse Band

and the beautiful dancin' Cow Bells every

Monday night at the world famous

Whisky a GoGo on the Strip

THE FASHION STAGE
Armadillos to

Mastodons

History of the Texas Hill Country

And the great Tonkawa Nation

DEDICATED TO BARTON SPRINGS

AND THE STORIES THEREOF

KICKIN' UP DUST

Following music history from

the Native American drum

to wandering troubadours,

medicine shows, tent shows

rag operas, singing cowboys,

vaudeville on to rock & roll.

Buck Page from Riders of the

Purple Sage, with me and

Dave Somerville, founding

member of The Diamonds.

Backstage with a Press Pass
BUY THE CYBER BOOK HERE

and we'll send you the link to

travel through the book

see backstage

the red carpets

the premiers

the history

the saga

MORE ADDED WEEKLY

YOU WILL NEVER FIND THE END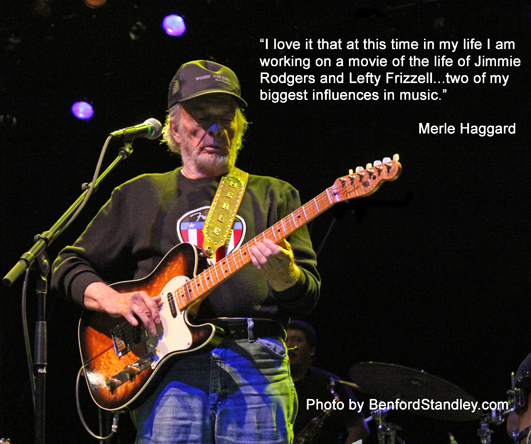 Merle told me this at the last concert he ever performed. We were in Oakland,
Ca. in February of 2016, he died two months later in his bus on his ranch.
I AM WRITING A BOOK ON MY 12 YEARS WITH THE HAG...
STAY TUNED FOR MORE ON ME AND MERLE
© 1967-2018 Benford E. Standley
all photos and video are the Property
of Benford E. Standley