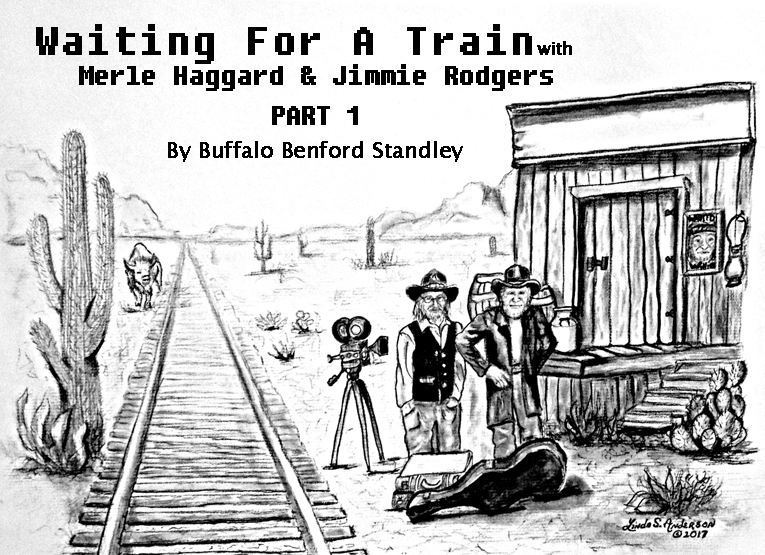 ALL OF THE PICTURES ON THE PAGE ARE PROPERTY OF BENFORD E. STANDLEY AND ARE

NOT TO BE COPIED OR SHARED IN ANYWAY UNLESS WITH WRITTEN PERMISSION.

MY PICTURE MEMOIR OF ME and MERLE

THANKS FOR PRE-ORDERING MY BOOK ONLINE AND LOVE

FOR YOU TO ENJOY SOME STORIES ALONG WITH PICTURES

PRIOR TO THE RELEASE IN THE FALL

OF MY eBOOK

AND HARD COPY ON SEVERAL DISTRIBUTION SITES AND

YOU CAN ALWAYS VISIT AT:

WaitingForATrainWithMerleHaggard.com
photo by Chris Felver

I'd been working on a documentary on Jimmie Rodgers

the Father of Country Music for years, and some years

back Willie Nelson told me, "If you want to know something

about Jimmie Rodgers, you need to talk to Merle Haggard.

The Saga begins.

After a number of decades in the entertainment business I

knew how to follow the trail and find the responsible agents

and managers of about anybody in the biz, and had enough

credentials myself to get to the responsible parties to work

with celebrities. Years pass...

After starting the hunt for the great Merle Haggard I'm led to

Frank Mull. Frank went way back with Merle to when Moby

Dick was a minnow. After some months of talking on the

phone with Frank I was invited to a few Haggard's concerts

Thereafter a 12 year friendship and working relationship

began centered on the life and music of "The Singing

Brakeman" one of Merle's biggest influences and who

was the Father of Country Music Jimmie Rodgers
For the first year that I was around Merle on various tours and at a number of shows in California, Frank and I would talk, and

I began to meet the guys in the band, the road crew and bus drivers, let's call it a vetting dance. A number of months later,

and after several meet ups with some dates in California Frank told me to meet them at a show off the 210 near LA, I met

Frank at a hotel, where he was checking in the band he said, "Merle is out in the parking lot on his bus, why don't you go

say hi to him." I got butterflies in my stomach as I began to walk out of the hotel into the parking lot headed for the Super Chief

his famous bus. I boarded the bus and Merle looked at me and said, "Come on in Banford." He called me Banford, instead of

Benford...hell I didn't care, Merle Haggard could call me whatever he wanted, and from that point on a great friendship and a

working relationship began and grew year by year as the number of projects of his and mine we would work on grew and our

talks were always about these various projects at the various stages.

He encouraged me to take pictures but I was smart enough to know he did not want to be posed. I have miles of film and

terabytes of dis and dat.

In 2015 we were out on Hag's ranch working on a project that came to me to pitch to Hag...I would not take many things to him,

in that he and I had enough going but this made us both some money and got some recording done for our project during the

shoot. After a long interview with Merle and me on the Jimmie Rodgers Saga, Chuck Banner asked me to leave the room

and he sat down with Haggard and the following was discussed:

Chuck: Merle, when did you meet ole Benford?
Merle: "I have been knowing him about 10 to 12 years. When I ran into Benford, I realized that he was in a search for all the information he could find. Seems like every time we get together we end up in the same area, something about country music history. He is a history buff and I guess I am too...I enjoy digging out the truth of what really occurred. Benford is one of those kind of people also."

Chuck: Have you learned much from Benford? He has been chasing the stories and his life sounds a lot like Jimmie's Rodgers life himself.

Merle: "I've learned a lot from Benford. He knows stories about Jimmie Rodgers that leads to other people. Hank Snow and Earnest Tubb, Lefty Frizzell. I don't know why my passion level is as a child. I am still interested in finding out something about my heroes, and he is in the same business (laughs). When I see him coming I know what we are going to be talking about. I know he is a history buff and a interesting person and he has worked awful hard to prepare this chunk of history.

Chuck: Merle, you don't let a lot of people just come on the bus, or go on tours with you?Merle: "No, that's right." Chuck: How come Benford made it into the mix?

Merle: Well, I could tell immediately that he was (pause) "Knowledgeable" about what he talked about and that was interesting to me. I didn't know if he was there to tell me something or find out something but it is always interesting to talk to Benford."

coming soon
Norm Hamlett and Frank Mull talking talking on stage during sound check in

Carmel, Ca., where there was some talk Clint Eastwood might show. Frank

worked for Merle wearing a number of different hats for 40 + years... I know

Merle and Frank saw each other as brothers. Hag held Norm in very high

regard and had been with him since 1965, and he would introduce Norm as

the Music Director of the Strangers during most shows...

Frank Mull & Merle Haggard leaving the stage, Frank was always there

with a flashlight so Merle could see what side of the stage to exit, and

Frank would lead him back to the bus. Merle did not like to stop after

a show and visit, or sign autographs, he just wanted to get to his bus

and take his boots off, only a few people had the luck to get to come

on Hag's bus and talk to him...That I had that freedom was wild to me.
Over the next decade plus, I would become a friend and partner, and was one of the selected few that got to spend many

times with him on his bus talking Jimmie Rodgers, Lefty Frizzell, Bob Wills and on and on... For the first year we would

meet up at different venues in California, sometimes I would follow the busses from town to town. He told me one time that

Johnny Cash called him and said "Merle where are you?" Merle said, "I don't know." Cash told him, "Call room service

and ask them." Merle loved to tell stories about his great friends, more than talk about himself, even told me one time

he would love to do a television show where he told stories about guys like Bob Willis, Johnny Cash, Roger Miller, Lefty

Frizzell and hundreds of the greats that he knew personally.

Based on our love of Jimmie Rodgers, "The Singing Brakeman" and his desire to help me with the documentary, which

became one of the central elements of the friendship, and out of the deep passion we both shared to tell the story of "the

man that started it all" we spent untold hours talking about music history. We were both always amazed that no one ever

make a movie or a documentary about his incredible life. And, Willie was right when he told me..."If you want to know

something about Jimmie Rodgers... talk to Merle Haggard.
Merle's songwriting was very important to him. One time he told

me one of his biggest thrills was that "Today I Started Loving You

Again" had been recorded by over 420 artists." Then a big smile!!!

He said he had these stories that must be told and music was the way.
CUT TO: BOOK STORY LINE AND NARRATIVE...

It is known in film and literature as the "protagonist" and by some is called the "hero" usually by the readers or audience.

It's said that the word arrived from the Greek language and was used in Greek drama where it referred to "the person who

led the chorus"... In my narrative Merle Haggard is the "hero."

Enter Merle Haggard. In his DNA is a ramblin' fever. His father was part of the Okie migration to California, where he

settled his family in an old Santa Fe railroad refrigerator boxcar, known as a reefer, in Oildale, California, a bedroom

community of Bakersfield. Merle was born in 1937, in the Bakersfield hospital then brought back to Oildale to be raised in

the boxcar, with a railroad track only blocks away. Merle said he began to know loneliness when his dad would leave to

work on the railroad line, then when Merle lost his dad to a brain tumor when Hag was only 9 years old he said he became

scared and angry, and the loneliness grew deep, and the ramblin' fever took over the rest of his life.
CUT TO: the setting for my dozen years with Merle Haggard was the road...

Enter the "antagonists" for there will be many for The Hag. In an interview with Dan Rather, Mr. Rather asked him, "You

don't have to work anymore. Why do you do it? Why jump on the bus and drive a thousand miles to another date? Merle

said, "I'm scared of the loneliness. It would be awful quite awful quick. If you want to be left alone, they'll leave you alone.

I don't want that. We want to continue...we don't ever want to die. You know that is the next big event once you retire.

Loneness is a terrible thing."

The ramblin' fever was adding fuel to hit the road throughout his life, and not two years after the death of his father he

hopped a freight train at 11 years old, and began a life of running away and life on the road. By age 16, and because of

his truancy and "ditching" school he began his many incarcerations in California Youth Authority Detention Centers and

jails that led to his 17 escapes...all leading to being put behind the bars of San Quentin Prison.

Running from that boxcar house in Oildale, running from those small school rooms, jails and dentition center lockups

where his spirit was locked away, running to and from the small back stage rooms to the hotel rooms and the small

rooms on his bus always with leaving on his mind. Running from four marriages and families, record labels and hucksters,

photographers, journalists and fans...Merle was the runnin' kind...

At 16 years old he played for his idol Lefty Frizzell, and Lefty had him open a show with his band...Merle said, "I was

hooked, I knew I could do it, then in San Quentin Prison he was in the audience when Johnny Cash played...this locked in

his desire to be a musician... When he got out of prison his life on the road would be forever...on his birthday April 6, 2016,

made his last run to join Johnny Cash, Bob Wills, Lefty and Jimmie Rodgers, and died on his bus.

The ramblin' fever, the road and his bus were antagonists. His memories that became his songs and the

passion and his deep desire to tell his life in song so others could learn became his antagonists. Hear it

in the songs he sang up and down the highways of the country for six decades.
I was born the running kind, leaving always on my mind. Home was never home to me at any time. And I got to keep goin' I can't lay down Sleep won't hardly come Where there's loneliness all around. Listen to the train that stops in our town, Sliver Wings shining in the sunlight. Sing Me Back Home Where The Lonely Go Too Many Bridges to Cross Over I'm a Lonesome Fugitive The darkness of the night catches me crying

A whistle soon will blow a lonesome sound. No matter where I am living I've got to tell them where I've been, or they will send me back to prison if I fail. A canvas covered

cabin in a crowded labor camp stand out in this memory I revived. I'm tired of this dirty old city Big city turn me lose and set me free Won't be long before my shoes touch

the ground Down every road there's always one more city. I'm on the run, the highway

is my home. I'm a hunted fugitive with just two ways: Outrun the law or spend my life

in jail. Within me there is a prison, surrounding me alone As real as any dungeon with walls of stone I know running is not the answer, but running's been my nature And

part of me that keeps moving on...Sing me back home with a song I used to hear Make my old memories come alive Take me away and turn back the years. Well I'm leavin' town forever kiss an old boxcar goodbye...SING ME BACK HOME BEFORE I DIE and KERN RIVER BLUES...he sang to me as we held hands on this bus before

his next to last show...
CUT TO: the BOB DYLAN & MERLE HAGGARD tour
Bob Dylan, Merle Haggard and Buck Owens backstage before Dylan's

performance. Buck took Dylan one of his red, white and blue guitars.

I walked in the room with Buck and Merle standing shoulder to shoulder

and you should have seen the look on Bob's face when he saw these

2 legends of the Bakersfield sound walk in...His jaw actually dropped.

Like two historic gun/guitar slingers just walked through the swinging

doors...I could write a chapter on this night in Portland, Oregon.

Merle and Buck Owens on Merle's bus talking about Jimmie Rodgers.

Such a great catch for me to have my film camera with me and able to

get these two ole friends talking about the guy I am doing a doc on...

after this shot Merle, Buck, Frank Mull and I started talking about

Jimmie Rodgers as I am filming thinking OMG, I have this on film!
Back in 2005, Merle told me that Bob had called him to tour the United States, and was wanting him to tour with him as an

opening act on 39 dates across the United States. Merle told him, "No." "Hell!" Merle said, "He wanted to go out at the

wrong time of the year for me to want to cross the U.S. North to South to West to East...And, Merle looked at me and said,

"I'm not an opening act...maybe for Willie." Then he said, "And the money was not that good."

Days after I got the first phone call from Frank Mull that this had all come down... Frank calls back and tells me the tour is on!

Later Merle tells me, "After the call I told my ranch hand to go to town and get me some Dylan CD's". The story from Frank

and Merle is that after listening to the CD's he called Frank and said, "Call Dylan...tell him I will do the show. That son-of-a-

bitch is a GENIUS!". Let's say Merle Haggard just discovered Bob Dylan.
1969 Merle released his tribute to Jimmie Rodgers SAME

TRAIN A DIFFERENT TIME and in 1997 Bob Dylan released

THE SONGS OF JIMMIE RODGERS: A TRIBUTE. I know I

played a roll in these two greats meeting and touring, and

in the full book I will tell how traveling down two different

roads one day Bob Dylan called Haggard... to be continued
In that the prior year I'd been not only running down Haggard for interviews to have him in the Jimmie Rodgers documentary,

but I had already run down Bob Dylan, and had already started talks with his management for his involvement and had his

interest, I could not help but feel some fate, destiny and synergy going on with the call of this tour coming together.

In 1969, Merle released a tribute album to Rodgers titled SAME TRAIN A DIFFERENT TIME, and in 1997, Dylan released a

tribute album to the Jimmie titled THE SONGS OF JIMMIE RODGERS: A TRIBUTE. In short Dylan and Haggard's boys gave

me permission to be the only video and digital camera on the tour. A month plus on the road and 39 shows sold out across

the Nation. I started taking notes and serious video of the tour itself, the busses, the roadies, the load ins and load outs, and

the road warriors doing what they do.
On the 39 show Dylan tour there were these 2 trucks and Hag's 3 busses

a merch truck and Dylan's 5 busses... was a trip pulling into all the cities.

The trucking and lights/sound was produced by Upstaging in Dallas, Tx...

The Bob Dylan Sound boys setting up for a show. Merle always relied on

having sound provided by the producers of the shows. He carried a sound

person, someone to run his monitors and sometimes had a light person, and

sometimes relied on the producers again to furnish this production assist.

Dylan's production is TOP OF THE LINE... so we were on a carpet ride.
The Dylan and Haggard journey was in 2006, during that tour Merle and I became saddle pals, and I felt a friendship growing.

Some weeks after the tour I showed him some of the footage and pictures that I shot and had them online on my computer to

show to him. That's when he asked me if I wanted to help him shoot a trailer to help get some footage of his life together to

then present to some studio and/or script writer. He had in mind Clint Eastwood or Ron Howard. At that point I jumped in the

Hag Band Wagon and got my personal All Access Back Stage Pass.
Dylan and Haggard are ROAD WARRIORS and one of the roadies said

about being roadies, "We are a Backstage Pass from being homeless."

I said, "Carnies that we are in a traveling circus..."

Merle and Les Paul in New York at Les' regular Monday night gig.

Les is 94 years old here and Merle said let's do "Pennies From Heaven"

I INTRODUCED MERLE TO LESS PAUL AND HAVE A GREAT

CHAPTER WITH PICTURES TO TELL ABOUT THIS GRAND MEET
For the next decade I was On The Road Again and again with Merle Haggard and the Strangers I learned more about one

of the great legends of all time. Haggard and I taught each other a lot of music history, and talked for hours upon hours about

everybody we knew and both being history buffs, he said one day, we told each other things we both did not know. I filmed

his stories, took notes when he talked, and for years many times those stories he remembered brought him to tears.

Later down the road in an interview with Merle asking him about me, out of this interview, of which I have a copy of, Merle said,

"When I see ole Benford walking up, I know we are going to be talking about some music history and something interesting."
cut to:
Merle Haggard and Willie Nelson

From the Merle Haggard UFO Music Festival in Roswell, NM to
the Willie Nelson's 4th of July Pick nick, then their last tour and
shows together in 2015 on the Django and Jimmie album Tour
A sell out October 2015 tour in support of the Django and Jimmie release followed the album's
#1 position on the Country Charts. The Boot.com named the album the #3 country album of the
year, and it was the top selling album on the Amazon.com Classic Country Charts for weeks...
and the album was dedicated to Jimmie Rodgers and Django Reinhardt and the synergy
grows with this next linkup of Merle Haggard, Jimmie Rodgers and myself, with Willie to boot.
Willie and Merle circle the wagons...

Merle and Willie laughing and telling jokes while signing stuff

for fans. These two ole friends always had a fun time together
CUT TO 2014, somewhere on the road with Merle...

2014, Merle was talking about getting back together with Willie on a project. He and Willie and Kris had just been together

at an awards show, so he and Willie started the ball rolling on the idea to do another album. Merle had said they wanted to

do something with Kris, but at the time and for awhile Kris was dealing with some health problems, which later showed he

was most dealing with the wrong diagnosis, and he was having to cancel some shows.

There were a number of times Merle would tell me about the project, then he would just grab his phone and call Willie. Last

call I remember he just grabbed his phone and called Willie and they talked awhile about getting off the dime and doing the

project. Merle told Willie to "call Mark and let's get this moving and let's get in the studio." Sony came on board and that

picked up the pace... As per many of the big recording projects the doings were kept hush hush, so for awhile I just knew

when Willie and Merle were getting together to do some recording. Most of the work had been done on the phone with

Willie and Merle talking about songs... Merle told me the story about how the song D'Jango and Jimmie came across his

and Willie's radar and that is a story that for sure tied me into the mix...more down the road.
Brothers from the road...I know they loved each other like brothers...I loved them

and grateful to be able to spend time with these 2 guys on a number of occasions

in my one life time... was a ride that only men could dream of...to smoke pot with

them both, take pictures, interview and record them just adds to one of the great

chances my life in the entertainment biz that fate and destiny has taken me on.
'81 was a big year for Merle and his "red headed brother" Willie Nelson, with the release of "Pancho and Lefty" the album, single and video were a big hit. The same year Merle signed with Epic records and hit the single charts

with a #1 for the song "Yesterday's Wine" with another

one of his best friends Mr. George Jones. Same year

he released the book SING ME BACK HOME.

Jump to July 3rd, 2005, Willie joins Merle for his MERLE HAGGARD UFO MUSIC FESTIVAL in Roswell, New Mexico, then they board their busses and head East to

Fort Worth where Merle would then join Willie for his

annual 4th of July picnic... frequently trading off as

closing acts for each other's Festivals.

Was always fun when Haggard and Nelson joined up...

their merry band of friends and crew and always made

for a fun family reunion and like a old time medicine show.

Merle and Willie in New Mexico in 2005, where they were the main act...

on Merle's UFO and Music Festival in Roswell, New Mexico...
Merle and Lacy J. Dalton, who Merle would book on

his Merle Haggard UFO Music Festival in New Mexico

Along with Haggard, Willie's picnics

at the Ft Worth Stockyards featured

the Likes of Ray Price, Leon Russell,

Clarence "Gatemouth" Brown, Billy

Joe Shaver, David Allan Coe, Asleep

at the Wheel, Ray Wylie Hubbard.

Also appearing was Cross Canadian Ragweed, Los Lonely Boys, Django

Walker, Jack Ingram who'd be at other Haggard shows plus Paula, Luke or

Amy Nelson or other Nelson kids

playing.

The backstage was always a who's

who of guests and main acts...always

a lot of room for buses from all of the

acts and fun area for large number of

guests, and then the actual backstage

where security was little tighter.

Jack Ingram good friend who was on a few

Merle Haggard and/or Willie Nelson shows

and I had worked with Jack in LA and we

had a mutual friend in Miranda Lambert.
Ten of the thirty years that I worked on the Jimmie Rodgers Saga, Merle

was just a great help to me, sometimes did not need to ask he would just

line me up with a interview with some one like his pal Willie Nelson. And,

we were constantly talking about Jimmie, Bob Wills and Lefty Frizzell...

Click Merle for more
STAY TUNED @
Prologue to Sagacity
ebook and printed book to be released 2021-2022
for comments