Jimmie Rodgers

Father of Country Music

had seen miles and miles of Texas

and moved to San Antonio

Jimmie Rodgers known as the "The Man That Started

It All" and time finds him in the Country, Blues, Rock,

Songwriter, and Grammy Halls of Fame also receiving

the 2017 Lifetime Achievement Grammy and the first

white man to receive the W.C. Handy Blues Award
During Jimmie's teen years and early days working on the railroad he's doing runs as a brakeman out
of Meridian, Mississippi and he'd find himself heading through New Orleans, Houston and Galveston with
a turnaround in San Antonio, Texas where he loved the action of that great city. As far back as 1916 the
young Rodgers was riding the rail as a brakeman from Meridian through San Antonio and El Paso on to
Tucson, Arizona. The Singing Brakeman fell in love with Texas as a teen.
Below is the story of why the
1st Annual JIMMIE RODGERS
TEXAS MUSIC & FILM FIESTA
will be in San Antonio, Texas.

Why San Antonio, Texas for the Jimmie Rodgers Texas Music & Film Fiesta?
Working on the railroad as a teen Rodgers would travel from Mississippi to San Antonio Sunset Station for a turnaround and some trips all the way to Tucson, thus began his love for the miles and miles of Texas. Staying overnight in San Antonio many times buskin' with his guitar on the Houston Street "Theater District" and around the Sunset RR Station." He was discovered in 1927, and in 1928 Victor Talking Machines (RCA) released his first Blue Yodel "T For Texas." Before long he became one Americas' top recording, radio, and vaudeville stars on his way to sell a million records. By 1929, he bought land and built a home in Kerrville, Texas, only there a short time he buys a house in San Antonio's Alamo Heights. For most of this time he had a Suite at the Gunter Hotel in San Antonio till his death in 1933. His family lives on in San Antonio and Texas.
He began recording for Victor in Dallas and San Antonio in 1929, and touring all over the United States out of the Sunset Station. He began to wear his cowboy garb influencing the likes of Gene Autry and others. On June 14 at the grand opening of the Majestic Theater flashing back 94 years ago Jimmie Rodgers would be the main act in the vaudeville tour to open the historic theater where he would receive 18 curtain calls at the opening show as part of the RKO Circuit tour with the 4-day opening. In November he boards train from San Antonio to New Jersey where he does a three-song music film for Columbia/Victor RCA. Spends Christmas in Kerrville in his new home.
1930 Jimmie toured 24 Texas cities as the feature act with Swain's Hollywood Follies along with Skeeter Kell and His Gang and other medicine shows. In July he and his wife Carrie boarded a train out of San Antonio to record in Hollywood with Louie Armstrong and meets Laurel and Hardy. Spending much of the year in Kerrville and San Antonio. Starting this year, he had a permanent suite at the Gunter Hotel.
1931 Records "TB Blues" in San Antonio at the Texas Hotel. He is made an honorary Texas Ranger and appears at Texas Rotary Club's State Convention. He moves from Kerrville buying a house in Alamo Heights 4.5 miles from the Gunter Hotel. This year he tours Texas and Oklahoma with Will Rogers in a tour to save the Red Cross from bankruptcy. After an event in Austin, Jimmie and Will fly to San Antonio where they kicked off an huge event for the Red Cross Relief tour in the Crystal Ballroom at the Gunter Hotel. Near the end of the year Jimmie is a special guest at Will Rogers' 52nd birthday party at the Gunter Hotel. During the year Jimmie is doing shows in San Antonio and Houston and small Texas towns. Many medicine, minstrel and tent shows winter and tour through Texas and the Southwest.
1932 Jimmie records in Dallas, and he began a radio show at the 100 watts KMAC Radio Station in San Antonio, playing his own songs and when he was off touring, they would play his records. He's spending a lot of time at home with his wife and daughter in Alamo Heights and his suite at the Gunter Hotel due to his TB, plus the hard times of to the Great Depression, yet he traveling to record in Camden NJ and doing shows in Alabama, and around Texas that he is booking for himself.
1933 he is very ill and deteriorating fast entering the hospital in Houston, returning to San Antonio to rest. Knowing his fate and needing money to leave his family he boards a train with his nurse at the Sunset Station to Galveston to board a freighter to New York where he records 12 songs and dies in his suite at the Taft Hotel May 26, 1933. It is very important to realize the train of his influence that was covering the nation from San Antonio, Texas…The Country Music Hall of Fame states, "Rodgers's impact on country music can scarcely be exaggerated." His biographer Nolan Porterfield said, "Everybody was influenced by Jimmie weather they knew it or not. Including the likes of Ernest Tubb, Bob Wills, Robert Johnson, Howlin' Wolf, Mississippi John Hurt, Les Paul, Milton Brown, Hank Snow, Bill Monroe and through time he'd find himself in the Country, Blues, Rock, Grammy and Songwriter Halls of Fame and many other accolades including the Lifetime Achievement Grammy and the W.C. Handy Blues Award.
By Benford Standley<![if !vml]>

<![endif]>
FOLLOWING IS A LONGER VERSION WITH SOME PICTURES OF THE SAGA AND THE
MUSIC TRACKS THAT JIMMIE LAID ACROSS THE USA FROM THE CITY OF
SAN ANTONIO, TEXAS FOR THE LAST FIVE YEARS OF HIS LIFE.
Jimmie Rodgers Texas Music & Film Fiesta
Benford Standley Producer/Director
T For Texas Blue Yodel #1

"Give me a T for Texas, give me a T for Tennessee Give me a T for Thelma, that woman made a fool out of me. If you don't want me baby, mama you sure don't got to stall I've had more pretty women than a passenger train could haul."

February 3, 1928, after his discovery by Victor Talking Machines in 1927, Jimmie Rodgers would record in the Camden, NJ studio where he recorded "T For Texas." Soon after the release it would become the song that would take him on a wild west runaway train ride to the top. "T For Texas' his Blue Yodel #1 was one of the biggest songs in history, soon to sell a million records and put him on the fast track to his fate and destiny as well as the engine to be the beginning of what was fast becoming "country music."

painting by Linda Standley - Anderson
It would set Victor on a fast track with the "Singing Brakeman" as their biggest star since RCA Victor had it's beginning in 1901. Jimmie had a big love for Texas after his many travels through the state working for the railroad as a brakeman and nights in a hotel in San Antonio before his turn around back to Meridian, Miss.
Jimmie was not sure that the song might not be accepted because of its "rough and rowdy" words, talking
about his girl "Thelma" who would leave him for another man, a "cheetin' song" you might say, and he sings
that he's going to seek vengeance on her and the lover and saying, "I can get more women than a passenger train can haul." He was starting to sing cowboy songs and becoming the "Yodeling Cowboy" and wearing his cowboy clothes while becoming a huge vaudeville, radio and record star. In 1929 he was doing an RKO Vaudeville Show tour that was playing a number of grand theaters across a few states with the Radio-Keith-Orpheum Interstate Circuit that was associated with Joseph P. Kennedy's (FBO) film company and David
Sarnoff of RCA and Radio Pictures later called RKO-Radio a major Hollywood studio. One of the shows
was a 4-day run at the grand opening of the Majestic Theater in San Antonio, Texas.
CUT TO:

June 14, 1929, on San Antonio's Houston Street

Grand opening of the Majestic Theater flashes back 94 years

to the year when Jimmie Rodgers would be the main act in the vaudeville tour to open the historic theater. Jimmie would receive 18 curtain calls at the opening show as part of the RKO Circuit tour. Joining Jimmie for the four-night grand opening

was banjoist Mexican Troubadour Don Galvan, aka "The Banjo Boy," an acrobatic group called Seven Nelsons, Eddie Sauer and his Syncopators (jazz players) and few others. Being this was the era when audiences were seeing vaudeville shows share the stage with the evolving motion picture business, William Fox, founder of Fox Movietime would screen his new "sound on film" Follies of 1929 that was traveling on the road with the Vaudeville show.

Interesting and in light of the fact that the planned JIMMIE RODGERS TEXAS MUSIC & FILM FIESTA is dedicated to helping Runaway Kids, we found it amazing that the show in 1929 was a benefit with proceeds donated to the Children's Hospital Fund of the San Antonio's Junior League and to Ella Austin Orphans Home. And here in 2023 the Ella Austin organization and the Junior League are still in San Antonio

and we bring them on board as two of our organizations to benefit from the show along with the Roy Maas Youth Alternatives and the Texas Youth Helpline.

MAJESTIC THEATER - Houston Street

Jimmie was the main act 1929 opening.

With percentage of the proceeds going to help
In 1929 the Majestic opening was a big event for the city of San Antonio and attended by politicians and high society and was to mark a new era of growth with the theater being second only to the Fox in Atlanta for size,
and as ornate and beautiful as the Paramount on Broadway in New York City, and the Majestic was the first
air-conditioned theater in the city. There on Houston Street the Majestic joined the Aztec Theatre built in
1926, and the Empire in 1914, the Texas Theater in 1926, creating the San Antonio "Theater District" and
later joined by the Alameda in 1949. Houston Street was one of the oldest and most popular streets in the
city and runs through the middle of the city's central business district and was a major pedestrian walkway
to the River Walk and a five-minute walk to the Alamo. In the late 1880tys streetcars were pulled by mules
and then in 1890 the streetcars were electrified, and Houston Street was where the tracks were laid, which
made the street even more popular. This gave access to the Alamo, the International Fairgrounds that is
now Roosevelt Park and the Sunset Train Station. Houston Street was wide enough that they had trolleys
going both directions.
Jimmie Rodgers is the only person in history to be inducted into the Rock, Blues, Country, Songwriter and Grammy Halls of Fame, plus in 2017 he'd receive the Lifetime Achievement Grammy in LA. In 1984 he was
the first white man to receive W.C. Handy Blues Award. On his plaque at the Country Music Hall of Fame,
where he was one of the first inductees, it says, The Man That Started It All. Rodgers' biographer Nolan Porterfield said, "Everybody was influenced by him whether they know it or not." Not to mention he was
the first entertainer on a US Postage Stamp, a Mason and a honorary Texas Ranger. When he was but 13
he ran away with a medicine show after three years prior stealing his aunts bed sheets to create his own
tent sow to entertain kids. No doubt the railroads and the south was where the blues was coming into his life.
Merle Haggard, Bob Dylan, Lefty Frizzell, Willie Nelson, Hank Snow and others have done tribute albums.
1930 Jimmie toured 24 Texas cities as the feature act with

Swain's Hollywood Follies along with Skeeter Kell and His

Gang, the J. Doug Morgan Medicine Show to name a few

of the medicine and tent shows that Jimmie would appear.

Many medicine and tent shows would winter and tour Texas. Jimmie was adorning the cowboy outfits and wearing ten-

gallon Stetsons and cowboy boots, with some photos in

chaps. There's no doubt that his cowboy and western music

was also influencing the next generation of cowboys like Roy Rogers and Gene Aurty, Hank Snow, Lefty Frizzell, Texas's

own Bob Wills, Lefty Frizzell, and "the Texas Troubadour"

Ernest Tubb and down the track he'd become "The Father

of Country Music."
In 1931 he sold his home in Kerrville and bought a home in San Antonio's Alamo Heights and during these
times he was recording songs at the Texas Hotel and the Bluebonnet Hotel in San Antonio and living in a
suite at the Gunter Hotel with many trips to the San Antonio train station to tour the nation, then return to "a
place that he dearly loved." Within one year of going professional in 1927, he became the best-selling and
most popular non-classical performer in the nation. There is still question where Jimmie Rodgers was born however Rodgers adopted Texas as his home during his most public years. During the years he was living
in San Antonio he was the biggest record and radio star in America. From the San Antonio Sunset Railroad station, he'd travel to New York to record, New Jersey to film a movie, and Hollywood to record and meet
with movie people. In his archives you see many letters written-on Gunter Hotel stationary, and he loved
the "theater district" area where he could be the famous person that he surly was during those years!!!!
In his song "Waiting for a Train" from his hoboin' days there was a line about being thrown off a train "in
Texas a place he dearly loved." In "Jimmie's Texas Blues" he sings "Give me sweet Dallas, Texas, where
the women think the world of me." His wife Carrie Rodgers wrote in her book My Husband Jimmie Rodgers, telling stories about their times in Texas and told of his huge love for the Lone Star State and its people. Following all his three years of touring Texas the press was always very positive, Jimmie even moved his Masonic Lodge membership from Mississippi to San Antonio, Texas.
January 23, 1931, President Hoover leads a Red Cross radio appeal,

in a broadcast featuring former New York governor and Democratic presidential candidate Al Smith, former President Calvin Coolidge, "America's Sweetheart" actress Mary Pickford and the very famous cowboy, humorist, vaudeville and motion picture actor Will Rogers.

After the broadcast Jimmie Rodgers, dying inexorably of tuberculosis, volunteered his services to Will Rogers via telegram. Will accepted immediately. The Red Cross relief tour was due to the drought-

stricken areas of Texas and Oklahoma and Arkansas being ravaged

by the man-made Great Drought creating the Great Dust Bowl during

the Great Depression and the T.B. epidemic. Starting in San Antonio

the American Red Cross relief tour performed fifty shows in 18 days across Texas, Oklahoma and Arkansas.

The tour grossed over $250,000, an astronomical box office for the

time and valued at near $5 million today. Tour was told to have saved

the Red Cross from bankruptcy. Assistant secretary of the Navy for aviation David Sinton Ingalls provided Rogers and Rodgers with the

use of a Navy Curtis "Hell-Diver" aircraft named Mystery Ship piloted

by famous aviator Frank Hawks, who also performed monologues and rope tricks as an act on the tour.

Jimmie Rodgers and Will Rogers

In Kerrville at Jimmie's House where

the stopped after leaving San Antonio

on the Red Cross Relief Tour.
Jimmie and Will flew from Austin and recently undiscovered news footage has shown up with them landing in San Antonio to kick off the tour at an event in the Gunter Hotel's Crystal Ball Room attended by the Mayor and many dignitaries.

The efforts of Will and Jimmie not only saved untold millions of Americans from

the horror of famine, but also paved the way for the growth and maturation of

the American Red Cross. With the Gunter being across the street from the

Majestic there were the likes of Jimmie Rodgers, Will Rogers, Mary Pickford,

Mae West, cowboy film stars Tom Mix, Roy Rogers, John Wayne, and Gene

Autry all staying at the hotel when they were performing at the Majestic. Jimmie

had his suite at the hotel from 1929 till his death, where he'd hang out and party

on the Houston Street Theater District and rest when having bouts with his TB.

This same year Ralph Peer of Victor recorded three songs two blocks away

with Jimmie at the Texas Hotel in San Antonio.
In 1932 Peer would record eight songs being the last session for Jimmie in Texas at the Jefferson Hotel in Dallas. Of Jimmie's 110 songs 22 of them were recorded in Texas. This year Jimmie started his radio show
at KMAC in San Antonio. When he was not in town live on the station, and out touring, they would play his records. Famous San Antonio radio DJ Charlie Walker who was inspired greatly by Jimmie would move to
San Antonio and have a show at KMAC, word is that he had big influence on Willie Nelson when he was a
DJ and Walker would travel from San Antonio to attend two Jimmie Rodgers Festivals in Mississippi with
Jimmie's wife and daughter in 1953 and 1955 and seen in pics with Elvis. In '32 Jimmie's illness was taking
him further away from his stardom. In February he was made an honorary Texas Ranger at ceremonies in
Austin and appears as featured attraction at the Texas Rotary Club's statewide convention in March. He
also joins Leslie E. Kell Shows for appearances in Houston and San Antonio. Over a four-year period,
Jimmie played an endless list of towns and cities in Texas, and he loved the small-town Texas shows.
San Antonio was Rodgers' home base to the nation.
May 1933 Jimmie and his nurse Mrs. Bedell went down to the Sunset Railroad Station in San Antonio and boarded the Southern Pacific

Express train to Galveston, Texas. Due to his health the long ride on

train or by car to New York was impossible for him. This was his last

ride out of the station for a recording session to meet his fate and

destiny and to die with his boots on. Carrie stayed in San Antonio to

take care of her sick brother, their daughter Anita, and Jimmie's dog

Mickey. In Galveston they would board the SS Mohawk, a passenger

cargo steam turbine-powered ship that was the regular ship on the Galveston to New York voyage. Upon arrival in New York May 14,

Jimmie would check into the Taft Hotel's Suite #1809. His T.B. had

him ravaged during his final days, yet he attempted to record as much

as he could to leave money for his family. Rodgers died in his hotel

suite 48 hours after he finished his final song dying on May 26. Barry

Mazor noted in his book Meeting Jimmie Rodgers, "A handsome blond leather briefcase that Jimmie had toted on that last trip north had been placed in his casket…It would later be owned by Johnny Cash who

would give it to Marty Stewart, the briefcase was emblazoned Jimmie Rodgers, San Antonio, Texas. As his casket road on the train south

to his final resting place in Meridian, Mississippi thousands lined the

track to wave goodbye to the Singing Brakeman.
CUT TO: San Antonio, Texas 1936
Three years after Jimmie's death his legendary status would live on in his music and with his wife Carrie and daughter Anita "taking care of business" on the train of influence that Jimmie had left to them. I'm not going
into the detail that would give the entire scope of their work justice but wanted to tie in the continuation of the Rodgers music train of influence and the work that was done out of San Antonio there in Alamo Heights of
the now "bigger than Dallas" city. The modest bungalow duplex that Jimmie had bought for his family was
where Carrie worked on her book My Husband Jimmie Rodgers, and by the way where San Antonio raised
Steve Earle would live across the street from Jimmie's daughter Anita, and said he played Jimmie's guitar.
After Rodgers' death the young Ernest Tubb got a job as singer at radio station KONO Radio in San Antonio
and he would sing Jimmie Rodgers songs. Tubb said he never forgot that day in 33' when he heard Jimmie
had died. In 1936 three years after Rodgers' death the 22-year-old Ernest Tubb would contact Jimmie's wife Carrie Rodgers in San Antonio asking her for a picture of Jimmie when meeting at Mrs. Rodgers' house in
Alamo Heights area of the city. Soon Carrie was scheduled on October 26 to record a tribute song called
"When Evening Shadows Fall" and the flip side was "My Rainbow Trail Keeps Winding On" and they were
to record with Victor at the Texas Hotel where Jimmie had recorded before his death. Carrie invited Tubb
to come to the session and play Jimmie's famous Martin guitar on the recording. The next day, Tubb would come back in the Texas Hotel studio and record "The Passing of Jimmie Rodgers" and "The Last Thoughts
of Jimmie Rodgers," both songs penned by Rodgers' songwriting sister-in-law Elsie McWilliams. Carrie
helped Tubb setting up his own first record session with RCA Victor Talking Machines. She loaned him
Jimmie's tux for promo pictures, helped him write a bio and wore a managers hat helping Ernest Tubb ride
the Jimmie Rodgers train of influence to fame himself becoming the Texas Troubadour.
It's worth mentioning here at a "crossroads" in time that Robert Johnson, who was influenced by Jimmie would record the first of only two recording sessions Nov. 1936 in Rm. 414 of the Gunter Hotel where Jimmie had his suite, and

with the serendipity that this San Antonio session was produced by Don Law,

who would produce Texas born Lefty Frizzell's 1951 tribute album to Rodgers

in Dallas. All adding to the synergy of the times, and with the session being recorded one month after Tubb recorded a few blocks away at the Texas

Hotel where Victor Talking Machines under the new RCA who created

Bluebird Records low budget records because of the depression and radio slowing sales. Johnson recorded songs including "Cross Road Blues" and "Sweet Home Chicago." In 1937 the year Merle Haggard is born Don Law

took Johnson to Dallas and recorded the second and last recording session

of the man aka the "King of the Delta Blues" and a "Godfather of Rock n'

Roll" riding the train of influence of Jimmie Rodgers himself.
On a sad train, but to me important to mention that the life of Jimmie's wife Carrie, daughter Anita, and Anita's
son Jimmie Dale Court, grandson of the Great Jimmie Rodgers, all passed away in San Antonio, Texas.
Jimmie Dale's son James Court and daughter Dixie Court were born in San Antonio with his son Austin born
in Austin, Texas. They are part of the creation of the Jimmie Rodgers Texas Music and Film Fiesta.

More of the Jimmie Rodgers Saga will be dug up and shared as we head towards the manifestation of the
First Annual Jimmie Rodgers Texas Music and Film Fiesta in downtown San Antonio from September
5-8, 2023, in celebration of The Man That Started It All, Jimmie Rodgers. (Buffalo Benford Standley, producer/director 1/27/23)
MUCH MORE

on the

JIMMIE RODGERS

TEXAS MUSIC & FILM FIESTA

BenfordStandley.com/JRWWRT.htm

DREAMSCAPE

see much more on the

JIMMIE RODGERS

@

To be continued…

Austin Court, Benford Standley, James Court

Producer/Director Benford Standley with the

great grandsons of Jimmie Rodgers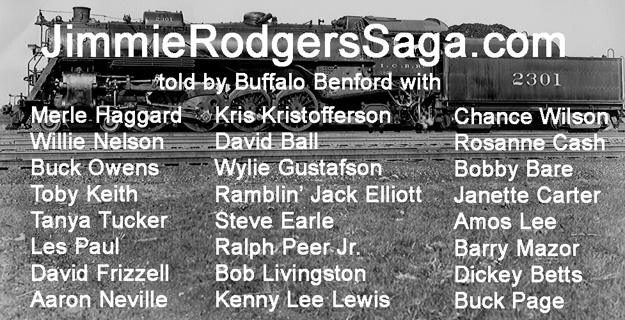 Copyright © 2022 by Benford E. Standley
All Rights Reserved.